WEBINAR
COVID-19's Impact on Employers
Presented: March 23, 2020
KJK Partner Rob Gilmore discusses the impact COVID-19 has had on employers and what they can do to navigate these unprecedented times.
About this Event
Given COVID-19's already significant impact, as well as the impact that the new Families First Coronavirus Response Act will have on employers throughout this crisis, KJK Labor & Employment Partner Rob Gilmore presents this webinar to assist employers in navigating employment and human resources questions during these unprecedented times. The webinar will cover everything from the new state of labor and employment law, to practical tips employers can utilize to keep their businesses up and running.
We will discuss:
The Families First Coronavirus Response Act
Changes to applicable Ohio law, including Governor Mike DeWine's recent executive order expanding access to unemployment insurance
Considerations for whether your business will remain open, and how to manage related changes in business operations in the wake of mandatory quarantines or isolations
Whether an employer can require sick (or potentially sick) employees to go home
Implementing preventative measures in the workplace
Handling changes in employee salary or hours
Addressing an employee's return to work after illness
The effects of layoffs and terminations on your company
Practical financial considerations, including considerations of tapping into lines of credit
How to maintain employee morale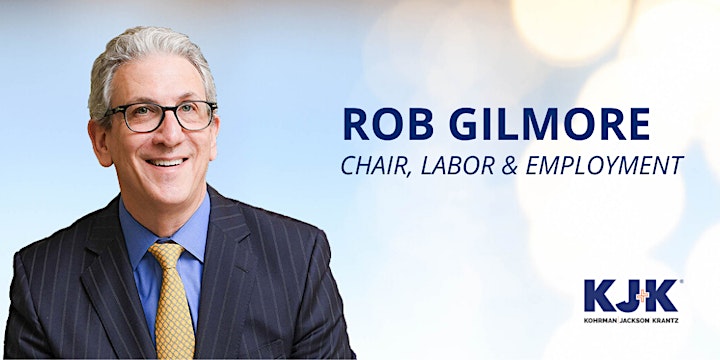 About the Speaker:
Rob Gilmore is a Partner at KJK, a full-service law firm with offices in Cleveland and Columbus. He serves as chair of the Labor & Employment Law practice group, and leads the firm's Employment & Severance Negotiations group. In his own practice, Rob counsels employers both large and small in the full range of labor and employment matters. He represents employers in state and federal courts, arbitration, and before state and federal administrative agencies in defense of employment discrimination, wrongful discharge claims and in non-compete litigation. Rob serves on the Cleveland State University Foundation Board of Directors, the board of the Greater Cleveland Film Commission, and is chairman of the board of Volunteers of America of Greater Ohio and Indiana. Rob is a member of the College of Labor and Employment Lawyers, a fellow of the Litigation Counsel of America's Trial Law and Diversity Law Institutes, and is a co-chair of the American Bar Association's Employment Rights and Responsibilities Committee.