WEBINAR
The Finer Points of PPP Compliance
Presented: May 11, 2020
KJK presents a webinar on the finer points of the Paycheck Protection Program and what businesses can do to prepare for them.
About this Event
As much as the SBA's Paycheck Protection Program has provided a lifeline for many businesses, it also comes with an added compliance workload for those that benefit from the funds. Join KJK Partners Demetrius Robinson, Anne Corrigan and Justine Lara Konicki for a webinar analyzing the finer points of the Small Business Association's Paycheck Protection Program and what businesses can do to prepare for them.
The webinar will include:
An Overview of the Paycheck Protection Program and New Guidance from the SBA and IRS
Frequently-Asked Compliance Questions
Calculating Loan Forgiveness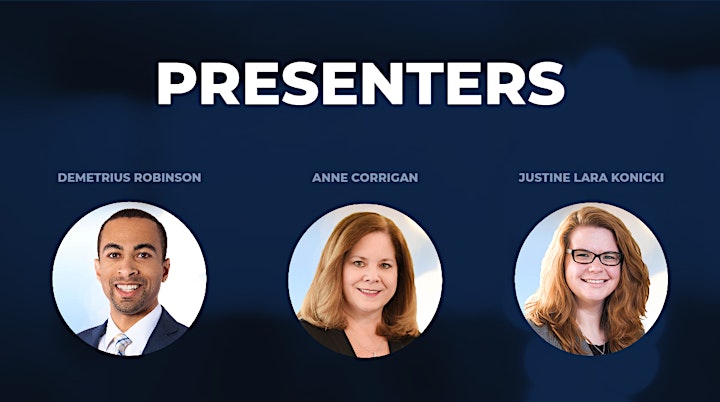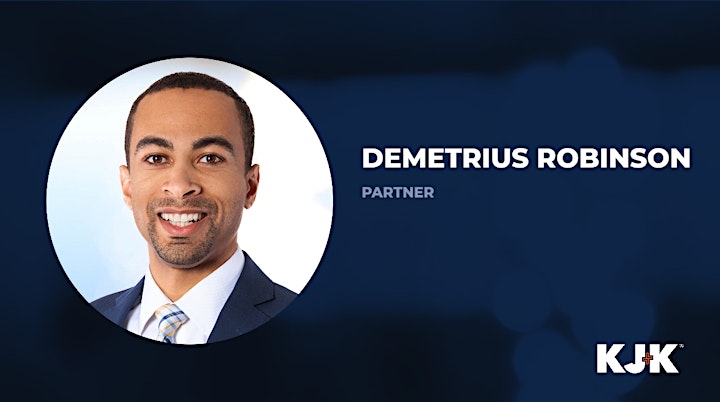 As a member of KJK's Tax Services Practice Group, Demetrius is valued by clients as a trustworthy and knowledgeable attorney. Demetrius spent several years working for a Fortune 25 company before transitioning into law, based on his desire to combine his understanding of business with the legal complexities and challenges that exist. Demetrius is passionate about helping small businesses navigate the law in order to grow. He has provided tax and business advice to multi-national businesses, including Fortune 100 companies.
Demetrius holds a Bachelor of Arts degree in psychology from Capital University and a Juris Doctorate from Capital University Law School, where he also earned his Master of Laws in taxation and business. He is a member of the American and Ohio State Bar Associations, and was appointed to the Ohio State Bar Association Advisory Council on Diversity Initiatives. Additionally, Demetrius serves as vice chair for the Childhood League Center Advisory Council and is a city leader with Bunker Labs, a national network of veteran and military spouse entrepreneurs who help those in the military community start their own businesses. He also volunteers with the Legal Aid Society.
Outside of his legal practice, Demetrius serves in dedication to his country as a member of the Ohio Army National Guard. He also enjoys spending quality time with his wife and three children.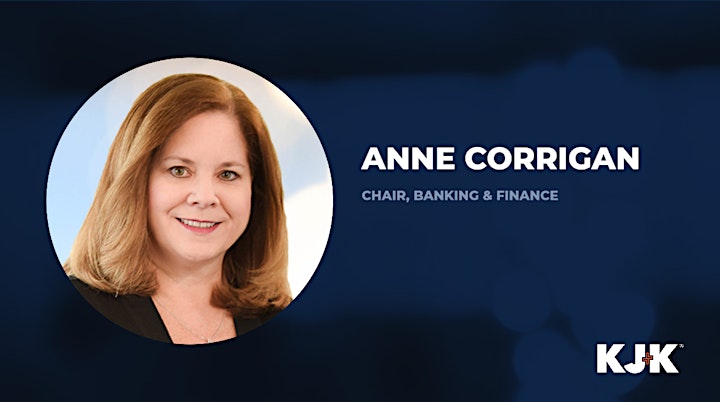 As chair of KJK's Banking & Finance Group, Anne is skilled in commercial transactions involving investors, financial institutions and corporate borrowers in a wide variety of secured and unsecured complex debt financing transactions, including asset-based financing, structured and mezzanine finance, SWAP and derivative transactions, mezzanine and other investment capital transactions and complex intercreditor agreements. She also represents both lenders and borrowers in restructurings, reorganizations and workouts.
Anne and her team take a unique approach to helping businesses access financing, acting as matchmaker between companies in search of capital and the firm's extensive network of lenders. She assists companies in accessing financing from traditional banks, private equity, mezzanine sources and construction financing to achieve their goals for growth.
Before launching her legal practice, Anne worked in institutional fixed income securities sales as an NASD Series 7 licensed securities broker and as an officer of a major financial institution in credit underwriting and middle market lending. From her years in banking and the capital markets, Anne developed an astute eye for the details in financial statements, financial covenants and the role of the capital markets in financial transactions.
Anne also chairs KJK's Public Finance Group, advising states, counties and municipalities, port authorities, higher education institutions, nonprofit organizations and other types of public issuers, as well as underwriters, lenders, letter of credit and liquidity providers, and borrowers.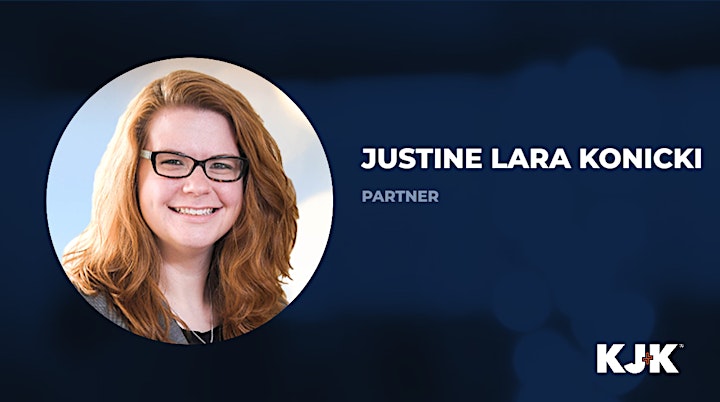 Justine has distinguished herself as a tenacious attorney who is not afraid to take on the most sophisticated and complex issues. With extensive litigation and transactional experience, she is committed to finding solutions that best meet her clients' goals.
Much of Justine's current legal work focuses on real estate and finance, including the representation of borrowers, lenders, developers and tenants in a wide variety of business and commercial issues. Justine is skilled in finance work-out and distressed asset deals and works closely with the firm's Finance team to manage the sometimes dual track of work-out and litigation. Justine also serves as outsourced in-house counsel to a public company, managing its litigation matters. Additionally, she frequently works on behalf of individuals, middle-market and small businesses in such matters as contract and shareholder disputes.
Outside of her client work, Justine has served as an adjunct professor teaching appellate practice at the Case Western Reserve University School of Law and is an avid rock climber.