WEBINAR
Financial Relief Compliance and Other Guidance for Healthcare Businesses
Presented: May 13, 2020
KJK Partners Kate Hickner and Cary Zimmerman, and Medic Management Group's Managing Director–Healthcare Advisory Services Ronnen Isakov will discuss various types of financial relief available to health care businesses during the pandemic, including the Provider Relief Fund payments, SBA PPP loans and FCC telemedicine funding. They will focus on the accounting, documentation, loan forgiveness and other compliance requirements for each. Kate and Ronnen will also provide practical tips from a legal and operational perspective for the reopening of businesses.
Following the presentation, they'll also be available to answer your questions. Please join us!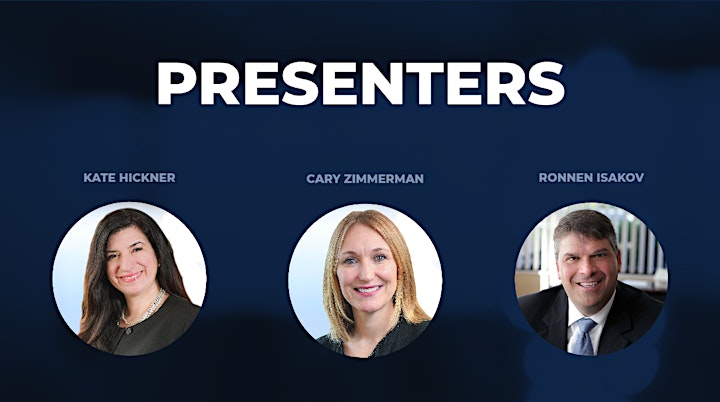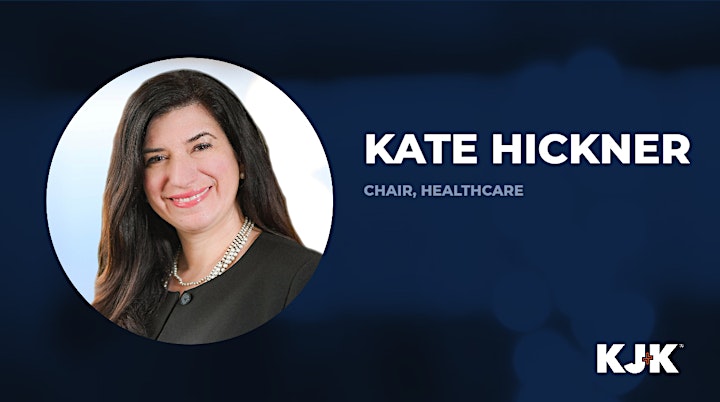 About Kate:
Kate helps her clients achieve their business objectives and charitable missions in a manner that complies with state and federal healthcare regulations. Her years of experience advising clients on a wide range of healthcare matters affords her the depth of knowledge necessary to help her clients stay ahead of the curve in a rapidly changing, highly complex industry.
Kate is passionate about expanding access to quality healthcare while improving the efficiency of care delivery. That passion translates into her work serving clients in nearly all areas of health care law. Kate is particularly experienced in transactional matters and compliance with federal and state healthcare regulations, including federal Stark and state self-referral laws, federal and state anti-kickback laws, HIPAA and state privacy laws, and federal tax-exempt laws.
Kate's clients include physician groups, hospitals, large health systems, retail and compounding pharmacies, accountable care organizations (ACOs), home health agencies, hospices, nursing homes, ambulatory surgery centers, medical device companies and businesses that provide practice management and related services to healthcare providers.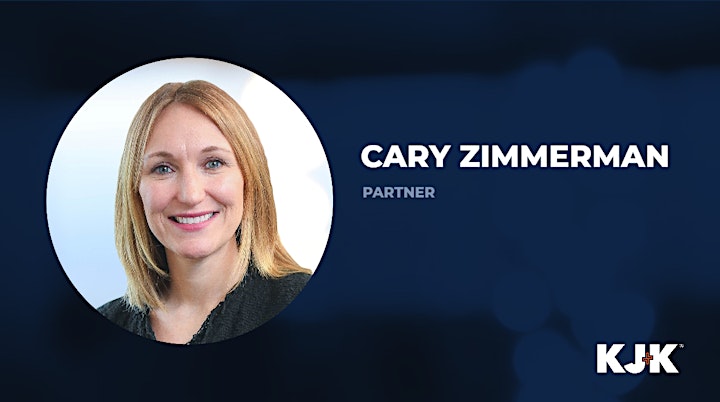 About Cary:
Cary brings unique experience to the firm as a partner in KJK's Corporate, Securities, Private Equity, and Technology practice groups.
She has spent her career counseling executives and owners in launching and profitably growing their companies. For public companies, Cary has prepared shareholder reports, proxies, and corporate governance documents, lead contract strategies and negotiations, secured cost savings and competitive agreements, and assisted in the achievement of multi-state and federal regulatory compliance. For high-growth start-ups and closely held companies, she has assisted founders, investors and other stakeholders with matters related to domicile selection and entity formation, fund formation, fundraising), securities compliance, mergers and acquisitions and corporate governance. Cary's experience comes from a wide range of clients with unique needs, including: financial services companies, software companies, real estate developers, medical marijuana entrepreneurs, breweries, restaurants and bars, registered broker-dealers and investment advisors, healthcare providers, manufacturers and high net worth individuals.
Cary's leadership also extends beyond KJK, including serving as a board member for the Great Lakes Science Center. In her spare time, she enjoys golf, cycling, cooking, design and craft beer. Cary has traveled across the globe to Australia, Italy, and France, and extensively within the United States to places like Big Sur, the Great Smoky Mountains, and Nantucket. She has proudly called the City of Cleveland home since 2005 and is committed to its revitalization.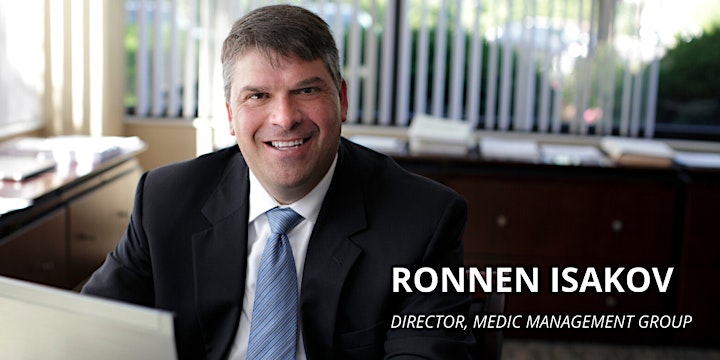 About Ronnen:
Ronnen is the Managing Director–Healthcare Advisory Services at Medic Management Group, LLC, with more than 25 years of experience in the healthcare industry. Ronnen oversees the consulting, operational, and financial services of Medic Management Group. His focus is on hospitalbased and system aligned medical practices as well as independent medical practices across the country.
Ronnen's areas of expertise include for profit and nonprofit entities. His focus is on physician compensation plans, due diligence reviews, practice valuations and forecasting, market valuation analysis, management, budgeting, operations and reimbursement consulting within the healthcare and medical industry.
Ronnen earned his Bachelor of Science Degree from the University of Toledo.
He is a member of the American Institute of Certified Public Accountants, Ohio Society of CPAs, National Association of Certified Valuators and Analysts and the American Health Care Association. Ronnen is a certified public accountant in Ohio. He serves on the board of trustees for the Mayerson Jewish Community Center of Cincinnati and various other nonprofit organizations on a local and national level.
The webinar includes:
An update from Rep. Gonzalez (OH 16th District)
An overview of the SBA Paycheck Protection Program (PPP) and how it differs from the Economic Injury Disaster Loan (EIDL) Program